Take a positive step towards achieving greatness by building your investment plan with Transfurd Farm scheme.In line with the vision of Tranfurd Farms to farm out hunger, create jobs and distribute wealth, we have found Agriculture (green gold) as a viable means to achieve this objectives. The time has come when we no longer wait for government but the time to stand up and take a bold step in leading the course of agriculture to foster economic development.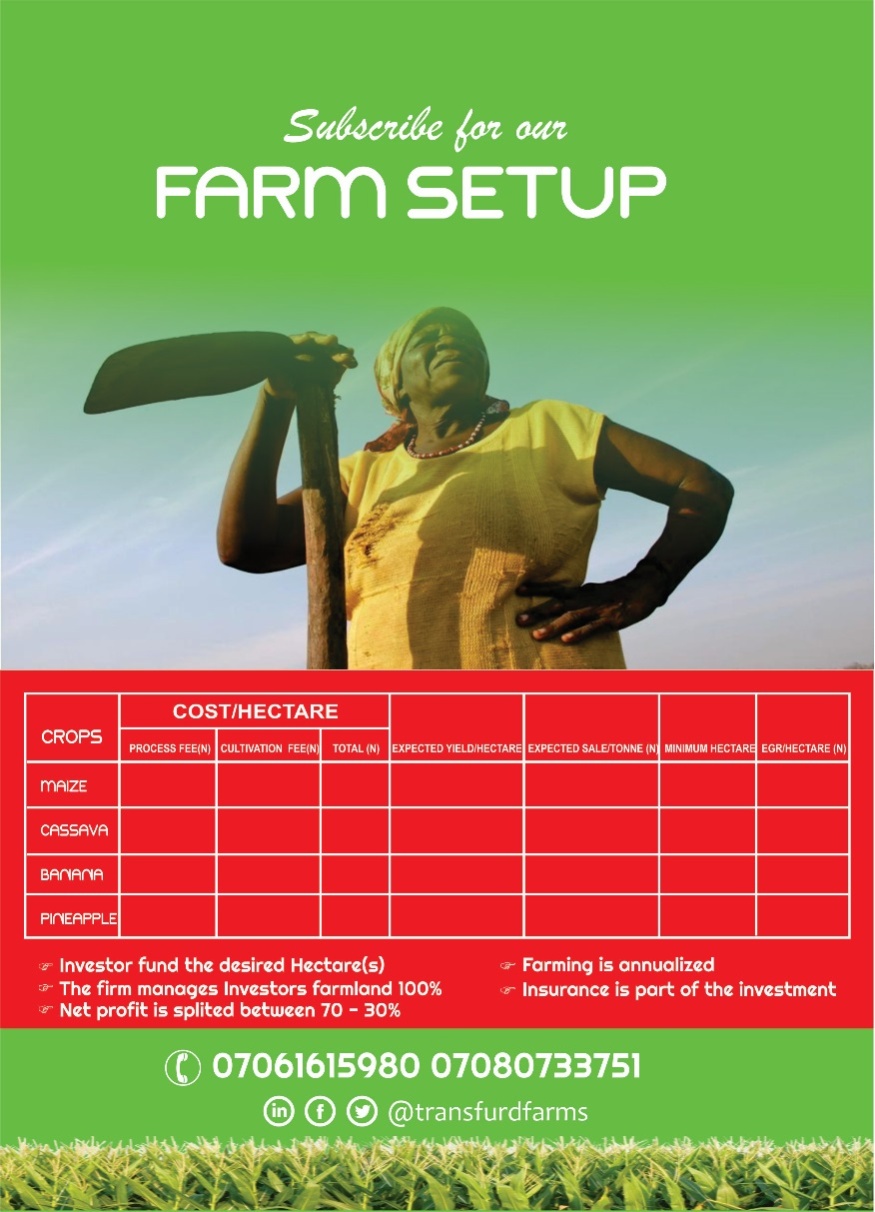 LET US SET UP YOUR FARM
In advancingour philosophy to help people generate wealth and job creation, Transfurd introduces the Farm set up to encourage Nigerians most especailly the youth to participate in Agriculture by giving them the opportunity to completely own a land for long time investment or help them set up their available lands for farming.
Transfurd farm have about 50,000 hectares of land available for sales in different Nigeria locations. The Farm Set-up scheme gives investors two options
i. Select from Transfurd Farm land
ii. I have a Farm land (you tell us your location – state, L.G.A, Village). We take care of the farm set up.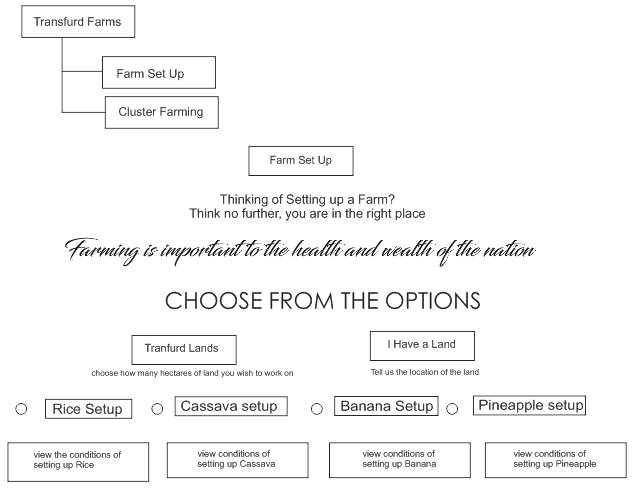 How to Farm with us
1. Pick any of the land location of your interest – Note: for any of the land picked, you get a brief summary of the Land.
2. Fill the Registration form and submit
3. Schedule a farm visit with us
4. Send the type of land chosen, location, state and amount to +2347061615980 (e.g. 2 hectares, ibogun, ogun state, 50,000 to 2347061615980 )
5. Scan the proof of ownership of land if we are working to info@transfurdfarms.com
6. After the payment has been verified an Electronic Receipt will be generated and delivered to your email inbox. This E-receipt will serve as your proof of ownership.
Also note that all payments must be made into this Account Details:
Account Name:
Account Number:
Bank:
Send details of payment by Email to payment@transfurd.com or Via SMS to +2347061615980
Don't Have Enough Fund? Try Our Cluster Farming
Cluster farming is a program that give Nigerians from diverse locations the opportunity to lease land from Transfurdfarms to farm. After the leasing they choose their desired crop from the list of available crops and provide the funds to farm on the land. Transfurd manage the whole farming process for the investor.
The farming scheme allow a cluster of multiple persons to work together on an agreed available crop, choose the no of farm unit (i.e 1 Hectare) and there is a shared responsibility. This farming program is birthed to encourage low income earners, students and everyone to be part of the agro revolution.